PREPARING FOR THE HOLIDAYS WITH CHRONIC PAIN - PART 3
In the previous posts,
PREPARING FOR THE HOLIDAYS WITH CHRONIC PAIN - PART 1
it was discussed about how life in pain affects our holidays, the stress of all the activity, as well as taking care of ourselves and getting organized.
In
PREPARING FOR THE HOLIDAYS WITH CHRONIC PAIN - PART 2
I reintroduced tools to help us survive the Christmas season, such as planning as a part of getting organized, choices we can make to decrease stress and pain flares, making changes as we find necessary, decreasing your gifting and shopping tips to make it easier for those of us in chronic pain.
If you haven't had a chance to get yourself organized, you might want to consider making those lists and planning on how to get done what you can ahead of time to decrease the hustle and bustle of the Holiday season.
In this post I will cover decorating, easy meal ideas and simple entertaining ideas.
DECORATING

If your are anything like I have been you have had your entire home decked out with all your treasured holiday décor! I think I counted 40+ snowmen at the highest count. As the years go by you find yourself lugging out countless boxes, unpacking each one and going about hunting out places to stick your treasures, only to have to duplicate it all in reverse weeks later. Just writing about this makes me want to just forget it all this year! It had seriously become a problem in our home since the last three spine surgeries.
I just couldn't do it like I use too!

Hubby would carry the boxes up for me and help set up the tree and the lights. Then the boxes would sit there for over a week with decorations slowly getting put out as I was able. With all the time that had passed, Christmas was closing in and I was seriously considering putting it all back, why bother getting the rest out to just turn and have to suffer through undoing it all.

All the repetitive movement of lifting, reaching, twisting, bending, etc. gets your nerves and muscles burning and screaming. I'd climb out of bed every day with great intentions of getting it completed!
However, it wasn't happening as fast as I wanted! Eventually, the leftover boxes ended up getting put away! FULL!

And the next year, those boxes remained in the basement.
These are some of the things that I had to incorporate:
Simplify – you know what your body can do. If it is just too much, cut back on a few choice areas to decorate.

If you are finding yourself stressed out and having more pain from it all, you might want to consider what options you have as far as eliminating some of the decorating! We do our Christmas tree, my snowmen on the fireplace mantel and the nativity. Hubby hauls all the stuff up for me and helps with it.
Consider asking for help-if you are having a hard time invite the kids to help you! If they are older
and have their own homes, ask if they would want to help. Maybe a friend would be delighted to help your or do it for you? You just never know who might be interested!

Make a party out of it, order some pizza to be delivered and put on some Christmas music.
Use fewer decorations on the Christmas tree or even placed around the house- I picked out about half of my snowmen to put up, left many decorations for the tree in the box. It makes for less to pick up and put away after Christmas is over! After you pick out what you want, clear out what is left over and give it away to your kids, a newly married couple that hasn't had a chance to get a collection of decorations, someone that just got an apartment or a home, or take it to Goodwill or some place for someone less fortunate.
Downsize to a smaller Christmas tree-less to carry, less to decorate and un-decorated! Fewer items to pack and unpack! Saves time and physical labor that causes more pain! We just got a smaller one last year after Christmas and I am so looking forward to not having to put up our humongous tree we've had!
Just put up a Christmas tree and nothing else, or a variation of a tree like branches in a glass container with a few choice decorations! So stunning! There are many ways to decorate.

You can explore on the internet what others have done! Pinterest may be a great place to start. Or Google,
"alternative Christmas trees images"
by hitting this link

and see what pops up!
I knew someone that decorated with a few poinsettias and some candles. That was very elegant!
A Nativity Scene and candles would be fitting as well.
There as so many elegant and fun ways to decorate in a simpler, unpretentious manner that you might really love. Living with chronic pain, simple and easy is what we need! It is a part of our new "normal."

There are many choices we can make to get through the Holidays without increasing your risk of a huge flare! I know for many of us, no matter what we do, our bodies have no respect to what our goals are and just is going to continue with the horrific pain no matter what, but at least you can
say you tried!
EASY MEAL IDEAS AND SIMPLE ENTERTAINING
Simplify – not only does simplifying cut down on stress, it requires

less work, less cleanup, helps lessen the chance of increasing pain and

leaves for more time to just hang out with loved ones. Unless you have a lot of help for a full fledged traditional meal you seriously might want to consider choosing an easier option from below:
Traditional Holiday Meal-have everyone contribute by bringing a dish or two. You could make one thing and everyone else brings the rest! If we decide to do this, Hubby and I usually make the turkey,
gravy and have a dessert. I set the table the night ahead of time with his help. Everyone helps to clean up afterwards.
Cook some dishes ahead of time and freeze-If you would rather make a different meal you could make the main dish ahead of time (i.e. lasagna) and freeze it. Assign others to help set the table, serve and clean up.
Potluck - Consider having a potluck for dinner instead of a big spread! We do a potluck brunch on Christmas. Everyone LOVES it! Then have appetizers the rest of the day!
Appetizers – everyone brings one or two of their favorites!

Makes for fun choices to eat! (Or as we call them,"Pinteresting!" Due to the when asked where they got the ideas from for their creation the answer is always, "Pinterest"). You can pick up easy to serve vegetable trays and fruit trays at many stores. Yes, they can be a bit pricey, but so much easier than preparing your own. When you think about standing there with all the washing, cutting and chopping fruits and veges require, it is so worth it! There are many lovely appetizers in the bakery and the freezer sections as well!
I know it all seems so simple to do yourself, however, remember your pain doesn't think like you do! (All the activity adds up and you usually end up paying for trying to sneak in doing what you usually do).
Soup, Salad and Sandwich Buffet - will probably be as welcome as a full meal. Make it a potluck as well if having guests! There are many per-chopped salads, homemade soups, as well as sandwiches you can buy! Buy yourself the gift of time and physical energy! If you do wish to make your own
soup, it can be done weeks in advance and frozen! Also, for chopping veges and meats you can put them in your food processor! Takes just a few seconds! Love my Ninja food chopper! Or, just do a soup and sandwich and forget the salad! Or just soup! Even easier! Through in some fun breads!
Pizza-go way out of tradition and order a pizza! If for Christmas, you would have to do it the day before and keep it refrigerated and reheat it! I have done that with Chinese as well!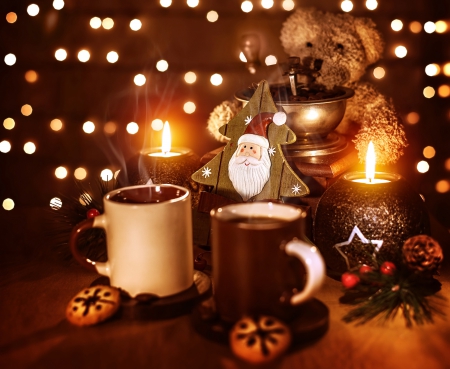 Coffee and dessert-instead of having family and friends over for a full meal, have a gathering with
coffee and desserts!

This can be done potluck as well or just go to a bakery and pick up a few items!
Remember! As you are able, throughout the year, when making a meal, double or triple your recipe of what you are making and freeze portions in foil freezer pans from the Dollar Store! We buy large lasagna size foil pans as well as smaller ones for hubby and I. Larger portions are great to have ready-made meals on hand for unexpected company! As well as a great item to give to someone that just had surgery or some illness.
Use paper plates, cups and disposable silverware for even less work!
Remember, it all comes down to choices! Choose what is best for you physically and will help you enjoy time with family and friends without all the stress of working so hard!
In my next blog I will complete this series with suggestions for
baking and making goodies, socializing, as well as some cleaning cheats!
Blessings!
Be sure to share these ideas with others suffering from chronic pain! We all need to help each other out!
Follow this blog by subscribing, filling out your email address in the area at that top left of this page!