LOW-FUSS DECORATING FOR CHRISTMAS
If you are anything like I had been before chronic pain, you have had your entire home decked out with all your treasured holiday décor! I think I counted 40+ snowmen at the highest count I'd strategically displayed around the house! As the years go by you find yourself lugging out countless boxes, unpacking each one and going about hunting out places to stick our treasures, only to have to duplicate all this action in reverse weeks later. Just writing about this makes me want to forget it all this year. It has seriously become a problem for me since the last three spine surgeries and the resulting Central Pain Syndrome spreading from my upper body to my lower body after the last surgery.
I just cannot do it all like I use too!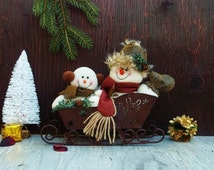 Thankfully, Hubby carries the boxes up from the basement for me

,

helps to set up the tree and put on the lights. Then the boxes with the decorations

and ornaments

usually

sit in the living room and dining room for over a week with

it all

slowly getting put out as I

am

able (& with his help, as time allows). With all the time that passe

s

, Christmas closing in

,

I seriously consider putting it all back!
W

hy bother getting the rest out to just to turn around and have to suffer through undoing it all

?

You all know how

hard all that activity is with
a
ll the repetitive movement of lifting, reaching, twisting and bending.
It
gets
the
nerves and muscles burning and screaming!
I'd
get
out of bed every day with great intentions of
completing the decorati

ng
! However, dealing with chronic pain, it just
doesn't happen

as fast as

we'd like
! Eventually, I'd get out what I could and the leftover boxes end up getting put away! FULL! And the next year, those "extra" boxes remained in the basement. I opted to put up the minimal. I felt a bit sad,
yet relieved.

I
t is better to
have
less to decorate a
nd
to be able to have less pain!
No matter what decorations I am physically able

to get out, it always brings joy to my heart! The glow of the tree with all the lights and ornaments, the snowmen that made "the cut" when I downsized the massive collection and the

beautiful

nativity

,

all bring cherished memories and happiness from many
Christmases past!
I d

ecorate

for myself, but I also

decorate

for
our

little grandson! I so love w

hen

he comes to visit and looks with glee at all the decorations on the tree! I love it wh

en he

asks, with eyes wide and sparkly with excitement, "Grammy, can I hold that snowman for just a little bit, I promise to be careful!" As he gently holds one, his eyes search for the next one to beg to hold and adore!
Then comes the wonder in his eyes as he moves to the nativity! He knows I leave baby Jesus for him to place in the manger. After the baby is placed in the manger, he eyes Mary, Joseph, all the wise men, Shepard boy and animals that have all been strategically placed in and around the stable

. His

little hands go to reach,

as

he looks up to me and asks, "Grammy, can I touch them?" Grammy lovingly says, " I will help you! You aren't allowed to touch these by yourself for they are very dear to my heart. They use to be my mommy's and after she went to live with Jesus they became mine!" So I gently place whatever he wants to hold into his little tiny hands,

hands

that grow bigger every year

!
For in those moments, memories are made!
decorate

all I can

,

knowing he will fondly remember his

Grammy and

holding these cherished items during Christmas's later in his life! Yes, not only is it

celebrating

the gift of baby

Jesus to the world, but

making memories with those we love gives a purpose to this life with chronic pain during Christmas. Making it all more tolerable to achieve is what we need to add into our new "normal" so we can be able to do all we are able

.
T

hat is why I

do

whatever I can to These are some of the things that I ha

ve had

to incorporate into my new "normal"

with

Christmas decorating. I hope that you find at leas

t some of

them useful:
Simplify

– you know what your body can

tolerate

, it lets you know! If you are finding yourself overwhelmed and having increased pain from all the decorating, you might want to consider what options you have as far as eliminating some of it. I ha

ve

cut back to a few choice areas to decorate instead of the whole house, as well as the outside. Oh, and the basement! We put up our Christmas tree, my snowmen on the fireplace mantel and the nativity. Hubby hauls all the stuff up and down the basement steps for me and helps with the lights, as well as the nativity. I decorate the tree over several days. As well as put out the snowmen.

Ask for help

– Make it a family activity. Make a party out of it, order some pizza to be delivered and put on some Christmas music. Unless of course you enjoy doing it yourself. Spread it out over several days.

If you are having a difficu

lt

time doing this on your own, maybe a friend would be delighted to help you, or even do it for you? You just never know who might be interested!

Use fewer decorations -

- I picked out about half of my snowmen to put out. I left many decorations for the tree in the storage boxes

.

It makes for less to

un-decorate

and put away after Christmas is over!

Give the extras away -

After you pick out what you want, clear out what is left over and give it away to your kids, a newly married couple that hasn't had a chance to get a collection of decorations, someone that just got an apartment or a home, or take it to some place for someone less fortunate. There are many that would cherish your unused items!

Downsize to a smaller Christmas tree

- less to carry, less to decorate and un-decorated! Fewer items to pack and unpack! Saves time and physical labor that potentially causes more pain! We just bought a smaller tree last year after Christmas and I am so looking forward to

not having to put up our humongous tree we've had! Or worrying about hubby hurting himself getting it up the stairs and back down, as well as having to move furniture to get it to fit!

Just put up a Christmas tree

- and nothing else, or a variation of a tree like branches in a glass container with a few choice decorations! So stunning! There are many ways to decorate. You can explore on the internet what others have done! Pinterest may be a great place to start. Or Google, "alternative Christmas trees images" by hitting this link and see what pops up!

Poinsettias and some candles

– Stunning! Simple, easy and elegant!

I knew someone that decorated with a few placed around the main areas of her home with candles and it was so warm and inviting!

A Nativity Scene

- would be fitting as well. The reason for the season!
There are so many elegant and fun ways to decorate in a trouble-free and uncomplicated manner! Change can be hard, but if it is what you need to do in order to enjoy the holidays, give it a try! I expect that you might really love it! Living with chronic pain, simple, effortless and down-to-earth is what we require! It is a part of our new "normal." There are many choices you can make to get through the holidays without increasing your risk of a huge flare! I know for many of us, no matter what we do, our bodies have no respect to what our goals are and just are going to continue with the horrific pain but at least you can say you tried!
May you find joy and peace of the Christmas season! May you enjoy whatever ornaments you are able to decorate with! And please, feel free to share with us in the comments area below!
This blog is for all of us with chronic pain! Do you have a favorite topic on chronic pain, documentary, book, video or even a blog to share you'd like me to cover in this blog? I'd love to hear about it! Share in the comments below.
If you enjoyed this post, then please subscribe for updates or follow by email
You might be interested in the new EBooks series,
Preparing for the Holidays with Chronic Pain
that was written for those of us with chronic pain with the purpose of giving specific suggestions and ideas to help make the strenuous activities of the holiday season simpler and more tolerable, ultimately decreasing the stress on us and helping us to be able to reduce the chances of increased pain flares, thus hopefully allowing us to spend cherished time with family and friends.
The EBooks can be
purchased here at Amazon.com
.